(2011/01/27)


In commemoration of the release of the movie: Tezuka Osamu's Buddha – Akai Sabaku yo! Utsukushiku-", the original manga episodes for the first part of the movie "Tezuka Osamu's Buddha" are serialized for twenty one weeks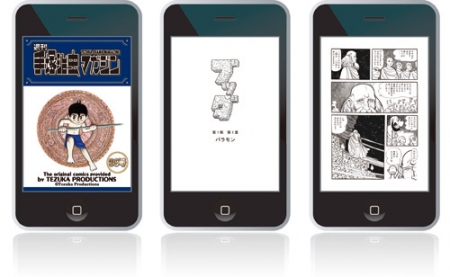 First Release date:
February 8 (Tuesday)
Contents:
A total of twenty one episodes from "Buddha", which is the original episodes for the first part of the movie "Tezuka Osamu's Buddha", are serialized for twenty one weeks.
(A total of 12 episodes from the 1st part & a total of 9 episodes from the 2nd part from the original manga work "Buddha")
The movie will be released on May 28, when the 16th episode (The fourth episode of the 2nd part) is being distributed
Distribution Method:
Users can read each episode for free by means of streaming for the limited time on Weekly Tezuka Osamu Magazine.  New episodes are distributed on weekly basis.
Media Available:
Smart Phones including, iPhone, iPad, Android, and Windows mobile, and PC.
Weekly Tezuka Osamu Magazine can be subscribed for free at Tezuka Osamu Magazine shop and Tezuka Osamu Magazine Club.
Tezuka Osamu Magazine Club: http://tezukaosamumagazineclub.com/
Tezuak Osamu Magazine Shop: http://yappatezuka.com/shop/
The Movie "Tezuka Osamu's Buddha -Akai Sabaku yo! Utsukushiku-": http://wwws.warnerbros.co.jp/buddha/