(2011/01/19)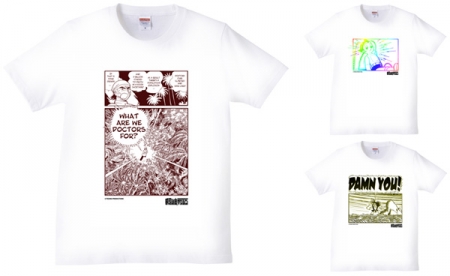 The original "Tezuka Osamu Magazine Club" T-shirts are available on "DESIGN GARDEN", the shopping site operated by Fujifilm Corporation from January 19, 2011.  These T-shirts adored with brilliant scenes as well as cover arts picked up from Tezuka's manga works are realized in collaboration between Tezuka Productions and Fujifilm Corporation.
Original T-shirts Available Now
- 12 designs for all seasons (with images excerpted from English translated versions)
- 4 kinds as the designs of the month (with the cover arts of Tezuka's representative works including Astro boy and Black Jack)
* The designs of the month are renewed every month.  Don't' miss them!
Special Offer Benefits for Original T-shirts Purchasers
Benefit One:
The purchasers are entitled to read the original manga of the T-shirts they purchased for free on Tezuka Osamu Magazine Club for a day.
Benefit Two:
The Crystal Print of Tezuka Osamu All-star Cast (KG size) is presented to the first 100 purchasers.
Retail Price
3,175 yen (including tax) for each kind including for men, women and kids.
Tezuka Osamu Magazine Club Original T-shirts on-line store at DESIGN GARDEN:
http://designgarden.jp/contents/tezuka/
The top page of DESIGN GARDEN:
http://designgarden.jp
Tezuka Osamu Magazine Club:
http://tezukaosamumagazineclub.com/