(2010/12/24)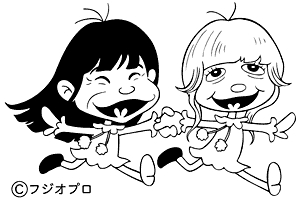 To commemorate the exhibition of Mr. Fujio Akatsuka titled Tsuito Akatsuka Fujio ten: Gag de Kakenuketa 72 nen, the special talk show: Himitsu no Benkyoukai (Secret Study Session) by Rikeo Akatsuka and Rumiko Tezuka is held as follows.  Along with the talk show, special screenings of Akatsuka animations is also held.
Time & Date: 13:30 p.m. on January 12, 2011
enue: Daimaru Shinsaibashi Theater (14/F Daimaru Shinsaibashi North Building)
Admission Fee: Free (Seating cap. 250)
Contact: Tel 06-6271-1231 (Daimasu Shinsaibashi)
URL: http://www.fujio72.com/
*To enter tha hall, participants are required to show the admission ticket at the entrance.
*The numbered tickets will be delivered at the checker of the special shop located at the exhibition (14/F of the North Building) from 10: 30 a.m. on the day.
*Admission is closed when all the seats are occupied.
*Please note entrance to the hall may be limited in case of congestion.
*No photo and recording in the hall
*Contents of the show are subject to change at speakers' reasons.
Contents of the exhibition
"Tsuito Akatsuka Fujio Ten – Gag de Kakenuketa 72 nen (The Memorial Exhibition for Fujio Akatsuka – his 72 years life with gags)"
Period: Jan. 12, 2011 – Jan. 24, 2011
Outline:
Mr. Fujio Akatsuka is known as the author of several hits such as Osomatsu-kun, Himitsu no Akko chan, Moretsu Atarou, and Tensai Bakabon.  Until he passed away at the age of 72 in August 2008, he constantly kept writing manga works from the view point of "gag".  He left a major mark on the Japanese manga history by making many people laugh, and became to be called "the king of Gag manga".  This exhibition, designed by a book designer, Mr. Shin Sobue, focuses on such Mr. Akatsuka's character as well as his unique world, and introduces his various works three dimensionally with about 250 his original drawings, including some drawings on display for the first time, his pictures taken at his Tokiwa Apartment days, a picture of various notable public figures posing "She!", and screening of openings of his new short animations.  Visitors can experience the world of Akatsuka Gaga, which is still living with us.