(2010/12/08)


- New Product Information – Astro boy' Underware for Men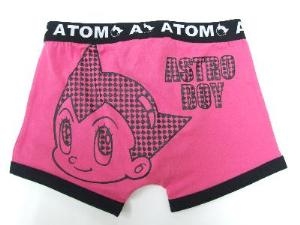 Here is new Astro boy underware for men. The face of Astro boy and logo, stippled with the silhouettes of Astro boy, are printed in black on the pink pants.
So far, various kinds of underware with Tezuka characters have been sold at Shimamura.
What comes next?
Available at Shimamura
Price: 679 yen (tax included)
Size: M/L
Distributor: Grace Co., Ltd.