(2010/11/26)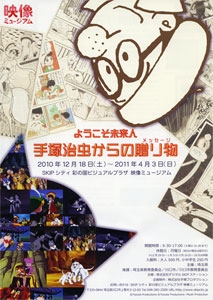 The exhibition of Tezuka Osamu is held at the Visual Museum in SKIP City Sainokuni Visual Plaza.
Tezuka's beloved goods and his original manuscripts are exhibited.
Some workshops for animations are also opened to public along with the exhibition.
General Information
Period: December 18, 2010 – April 3, 2011
Venue: SKIP City Sainokuni Visual Plaza Visual Museum
URL: http://www.skipcity.jp/
Workshops
Let's make basic animation!
Participants can experience making an animation device called Thaumatrope, a disk-shaped device with pictures.  Just applying colors on the pictures, anybody, including children, can have fun.
Let's experience being an assistant for manga artists!
Why don't you try being an assistant of manga artists, using pens, ink and screen tones.
Let's animate comics! 
With some tools for professional animators, participants can experience drawing key animation and in-between animation. The completed animations are then exhibited at the Visual Library.
Date: Every weekends & National holidays
Hours: 14:00 -16:00
Venue: Visual Museum (3rd floor)
Admission: Free
How to Apply: Please come to the venue directly.
* During the period, visitors can read Tezuka works and draw pictures freely at Tezuka Manga & Animation Atelier.