(2010/11/02)


Special project to commemorate the 55th anniversary of Nakayoshi and the 80th anniversary of Tezuka Osamu's birth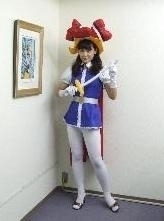 Haven't you wanted to be like Sapphire?  Now Sapphire's costume is finally merchandised from COSPA, an apparel manufacturer of characters' costumes. This elaborate costume reproduces faithfully original Sapphire appearing in the original manga work.  The brim of the hat is wired so that its shape can be arranged freely. Also the hat is attachable to the collar sot that the big ribbon does not lean forward.
The picture on the left: Our staff tried it on!  She commented it was easy to wear.
How about putting on this costume at Christmas parties or at year end parities for fun?
Size: Medium/Large (for women)
Price: 13,440 yen (tax included)
This costume is available only at Happinet Online, the Internet Official Shop of COSPA.  Please check the site for detailed information including release date.
Click here to visit COSPA's web site.