(2010/10/21)


- New Product Information –  Jungle Emperor Stamp Sheet Set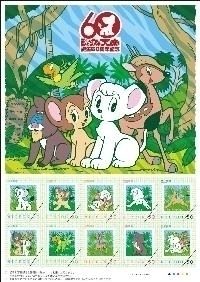 Here is Jungle Emperor Stamp Sheet Set now available. The sets are distributed only in limited areas.  Visit the post office nearby if you live in such area. Since it's been 60 years from the first serialization of Jungle Emperor, the 60th anniversary logo is printed on the sheet.
Information
Release Date: October 22
Units available:  20,100 sheets
Available at post offices in Tokyo are, except Shinagawa, Ota, Adachi, Katsushika, Musashino-city, Mitaka-city, Chofu-city, Komae-city, Fucyu-city, Inagi-city, Tama-city and islands in Tokyo.
Each set contains ten 50 yen stamps and two postcards,
Price: 1,500 yen per set
For the people living not in the area above, the sets can be purchased on Japan Post's web store. Don't miss this opportunity!
Release Date: October 25
Units available: 100 sets
URL: http://www.postal-jp.com/psc/goods/index.html
Note the shipping fee will be charged if you mail order the set.