(2010/10/13)


Astro Boy Design Competition for Novelty was held by Nihon Hyojun.
Nihon Hyojun, a company producing homework drills with Astro boy covers for elementary school students, held a design competition for students at Tokyo Design Academy, and the final selection was held as follows.
The five finalists, selected from a lot of entries, were judged by designers at Nihon Hyojun and Tezuka Productions as well as teachers at Tokyo Design Academy.
The Grand Prize was given to Ms. Kayo Kajiwara (in the 2nd year at Faculty of Graphic Design), and the Special Prize was given to Noriko Miyata (in the 2nd year at Faculty of Graphic Design).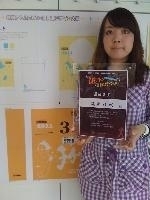 Mr. Kayo Kajiwara, who received the Grand Prize, with her design
Most of the judges recommended Ms. Kajiwara's design as the Grand prize, since her design, simple but with a strong impact, was suitable for novelty goods and would be loved by elementary school students and teachers with its futuristic image of Astro boy and bright but well-balanced colors.
Ms. Miyata, who received the Special Prize, with her design
Her plain and impactful design was also well-received by judges due to its originality and playful sense.  Since it can't stand to reject her design, the Special Prize was established specially this time.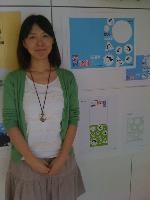 Ms. Kajiwara will be utilized on transparent files, memos and paper bags delivered as novelties while Mr. Miyata's design will be utilized on other items.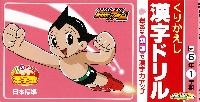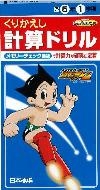 Also Chinese Characters Drill and Math Drill for next year will be distributed with novelties with Ms. Kajiwara's design.  Check it out!