(2010/09/24)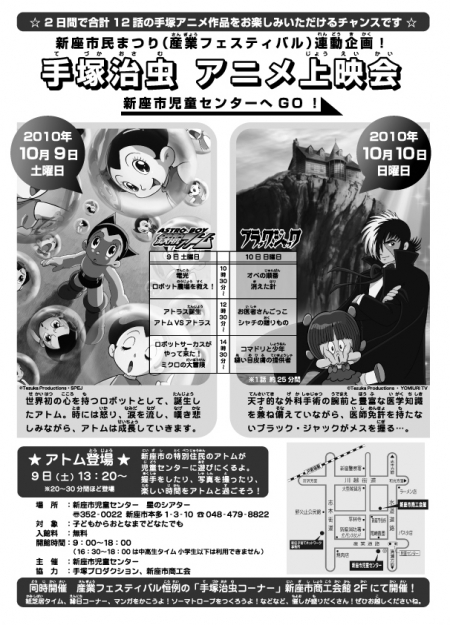 Screening of Tezuka Osamu animations will be held at Niza Jido Center along with Niza city festival (industrial festival). A total of 12 episodes of Tezuka Animations are screened in two days. Don't miss this opportunity!
"Astro Boy Tetsuwan Atom" Day
October 9, 2010 (Saturday) 
At 10:30

Electric Light

Rescue the Robot Farm

At 12:30

Atlas

Astro vs. Atlas

At 14:30

Robot Circus

Micro Adventure
"Black Jack" Day
October 10, 2010 (Sunday)
At 10:30

Order of Operation

The Missing Needle

At 12:30

Playing Doctor

Gift from a Killer Whale

At 14:30

Robin and Boy

The Skin Donor
*25 min. per episode
Place: Star Theater at Niza Jido Center
No age limit.
Admission Free
***** Meet & Greet with Astro boy *****
Astro boy, a special resident of Niza city, comes to Meet & Greet at Niza Jido Center!  Have a good time with him!
Time & Date:  13:20 on October 9 (Saturday)
*Astro boy will stay at the center for 20 – 30 min.
Niza Jido Center
1-3-10 Honda, Niza, Saitama, 352-0022
Tel: 048-479-8822
Business hours: 9:00 – 18:00
(Elementary students are not allowed to use the facility from 16:30 to 18:00.)
Organizer: Niza Jido Center
Cooperated by Tezuka Productions and Niza-shi Society of Commerce and Industry
The annual Niza City Fesrival "Tezuka Osamu Corner" is held too!
Let's enjoy picture-card shows and street stalls!  Let's draw and read manga!  Let's make Thaumatrope! And a lot more fun are waiting you! Visit "Tezuka Osamu Corner" at the festival!
Venue: Niza-shi Shoko Kaikan (the 2nd floor)
Date and Time: October 9 (Sat.) – Ocotober 10. (Sun)
* Lunch break: 12:00 to 13:00