(2010/09/16)


Photos of Ms. Araki with Hinotori and Mr. Araki with Ryujin!
Lovely pictures just arrived from Japan National Volleyball Team!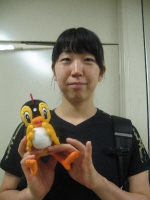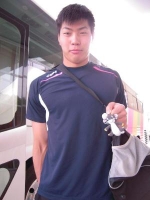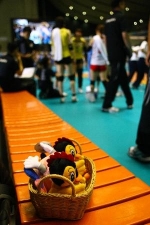 Above are the photo of Ms. Araki, the captain of the women's team, with a stuffed toy of Hinotori Nippon (left) and the photo of Mr. Shimizu, a member of the man's team, with a key chain of Ryujin (center)!  The characters got on the bench too (right)!
Now the key chains with Hinotori and Ryujin are popular among national team members.  Many of the members bring the chains with them!  Furthermore, all the women's team members are putting Hinotori key chains on their bags!
The two characters are being introduced as "the lucky Japanese mascot" on the site of FIVB now.  Click here to check the site! ( To FIVB's official site)
The stuffed toy and key chains are available at the site of the next international games.  Why don't you get them at the stand!  Next international games "2010 World Women's Championship" will start from Oct. 29, 2010.For the information about ticket purchasing, visit the official site of JVA (click here).
JVA Authorization 2020-09-007