(2010/09/13)


This fall, COP 10 will be held in Nagoya, Aichi. Representatives from nations that ratified CBD will get together to discuss various problems in order to maintain biological diversity on earth. And on the last day of COP 10, Oct, 24, a special music event by Kitaro, Sennnin Daiko (a thousand drummers) will be held as the grand finale. Kitaro is a well-known Japanese musician.
At the event, one thousand people sought from the public beat the drums together to express the rhythm of earth and the message from space. It must be spectacular and overwhelming!
And the Buddha T-shirts will be specially presented to the 1,000 drummers who apply to the event.
On the T-shirts, all the creatures in Tezuka's Buddha holding hands together are designed.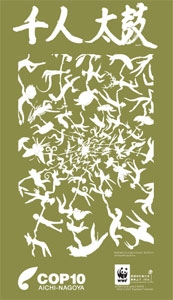 Enlarged image of the back: Various creatures are holding hand together.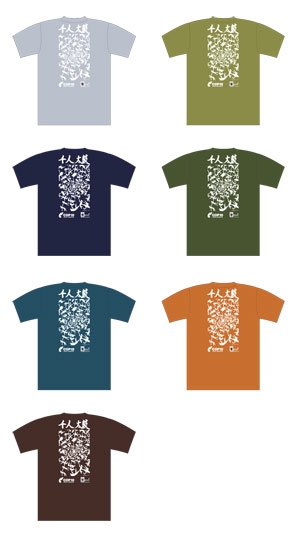 Colors above are available.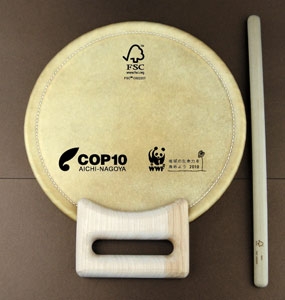 With T-shirts, the "Uchiwa Daiko" above is given to the participants. Participants will use the drum at the event.
In Buddha, Shittarda comes to realize that all creatures are related each other. This truth indeed presents the philosophy of biological diversity. That's why the design of Buddha was adopted to the T-shirts for the event.
Now the participants for the event are wanted.  Those who have applied in advance will be given the T-shirt and the drum above.  The deadline is the end of September.
Application Period: Sep. 1 – Sep. 30, 2010
Date: Oct. 24, 2010
URL:http://www.cop10.jp/expo/taiko/index.html