(2010/08/27)


A rough draft of "Todaiki" is used in the newspaper ad for the value of paper.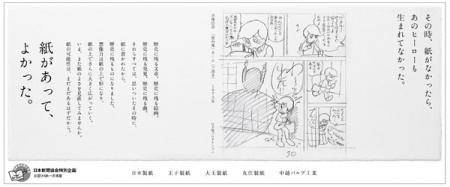 On August 27, an advertisement with a rough draft of Todaki by Tezuka Osamu was run on no less than 103 newspapers, aiming to raise people's awareness about the permanent value of paper.
Tezuka actually drew about 100 pages rough draft for the work, but it did not come into the world.  Then the rough draft became an original form for "Duke Goblin", a work published later. Thanks to the draft left on the paper, we could know that Tezuka had such an idea then.