(2010/08/17)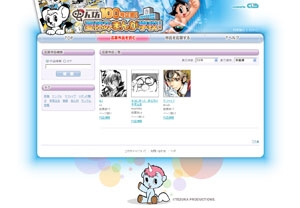 Also on the site "Aruhi no Tezuka Osamu" by Mr. Nomura who was Mr. Tezuka's assistant (Now he belongs to Creative Department of Tezuka Productions.) is being distributed.  Mr. Tezuka struggling hard for his creation is depicted in the work.  This work is only available on the site. Don't miss it!
With the tool prepared for the site, you can upload pictures digitally and show your work as if it is an e book (you can turn pages on the site).  The tool can be used not only for Manga but also for illustrations.  Also users can add comments or vote to the work posted.
Check the site and have fun with us!
*Please obtain your ID first to post on the site.