(2010/09/16)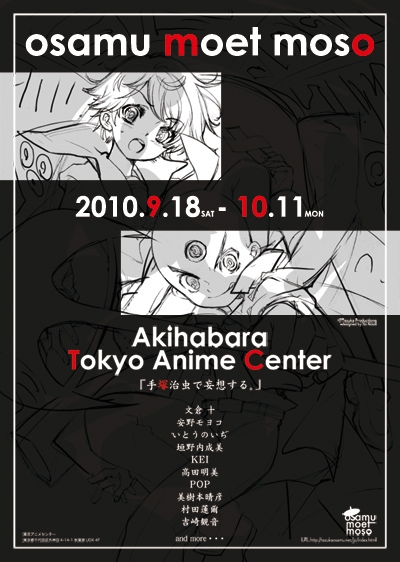 What is "osamu moet moso"?
The exhibition: osamu moet moso aims to extract and embody Akiba-like elements contained in Tezuka Osamu's works through the imaginations of each creator.
As the starter of the exhibition, "osamu moet moso – Hajimemashita" will be held at Tokyo Anime Center.  Then the exhibition will be toured through the country and expanded with more works by more artists.
Don't miss it! Feel "Akiba" in Tezuka!
Title: osamu moet moso – Hajimemashita
Period: Sep. 18, 2010 – Oct. 11, 2010
Hours: 11:00 a.m. – 19:00 p.m.  *The venue will be closed at 16:00 on the last day.
Closed on Sep. 27 and Oct. 4
 *Note the exhibition will be temporarily closed from 13:30 to 15:00 on Sep. 19 due to the special event.
Exhibits: Illustrations by various creators based on Tezuka works.  There are some surprising exhibits only available at the site!
Goods available: Reproduction of the exhibits, postcards, i-Phone accessories etc.
Artists/Creators: Ayakura Jyu, Anno Moyoko, Ito Noiji, Kakinouchi Narumi, KEI, Takada Akemi, POP, Mikimoto Haruhiko, Murata Renji, Yoshizaki Mine and more
Vanue: Tokyo Anime Center (Admission Free)
Akihabara UDX 4F, 4-14-1 Soto-Kanda, Chiyoda, Tokyo
3 min. walk from Denkigai Exit at JR Akihabara Station
Tel: 03-5298-1188
URL: http://www.animecenter.jp/eng/index.html 
Noiji Ito's Signing Session!
Date & Time: Sep. 20 (Mon.), 2010 15:00 p.m.
Precondition for joining the session: Customers who purchased goods of osamu moet moso (available from Sep. 18) equivalent to 3,000 yen or more at Tokyo Anime Center Official Shop can join the session.  The numbered tickets will be given to the first 100 customers.  Customers with such tickets are asked to take a line in front of Tokyo Anime Center at 14:30
Notice:
You are prohibited to take pictures or record at the venue.
Autograph is signed only on the designated board.
Your name will be written beside the autograph.  Please bring the numbered ticket with your name.
The information about the signing session is also uploaded on Mr. Noiji Ito's official blog.
Information about additional artists!
Mr. Takeshi Okazaki will attend the exhibition!  He is well-known for his work, Seirei Tsukai.
You may find some other artists' works not announced in advance at the venue!  Please visit the exhibition!
Product Information for "osamu moet moso"
Special products information for osamu moet moso (No.1)
Sorry, no images are available this time
Cell phone case: 3,500 yen
Key board: 10,000 yen
Mouse: 3,000 yen
Game case(D): 2,800 yen
Game case(P): 2,800 yen
Hand towel: 500 yen
Ballpoint pen: 500 yen
Mechanical pencil: 500 yen
Big sticker: 500 yen
*Tax excluded.
We will upload the images soon!
Apology
We are sorry to announce that Moyoko Anno's work is not exhibited this time owing to her bad health. Please accept our sincere apology for the situation. 
She will participate in the exhibition, which is going to be toured from now on, as soon as she gets well.  We will provide you with her information on this page: osamu moet moso.