(2010/07/29)


-New Product Information- Jungle Emperor Towel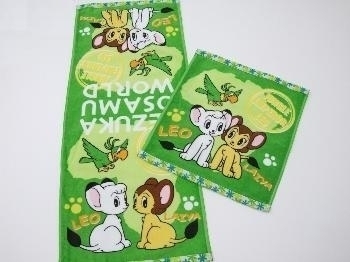 Here are the New Jungle Emperor Towels.
Jungle Emperor will celebrate the 60th anniversary soon. This towel reminds you Leo,  Lyre and Coco sitting side by side in the Jungle.
There two kinds available; one is a small towel convenient to bring out, and another is a face towel good to use at the beach or pool. Why don't you go out with these towels this summer?
Price:
Small Towel: 420 yen
Face Towel: 840 yen
The products above are available at supermarkets and GMS nationwide.
For more information, contact Marushin.  Tel: 0120-0777-04 (Toll Free)