(2010/08/06)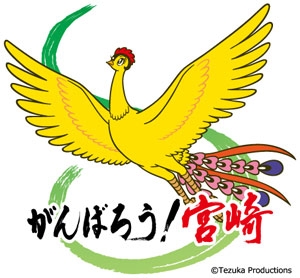 Miyazaki prefecture is seriously damaged due to foot and mouth disease, an epidemic spreading among cows and pigs.  The 1st infected cow was found on April 20, and more than 290 thousands cows and pigs were destroyed.
Hoping the recovery of live stock farmers in Miyazaki, JA Zenchu and JA Miyazaki Chuo set a logo with Tezuka's Phoenix to encourage them.  From now on, the logo will be used in various events as a symbol of recovery.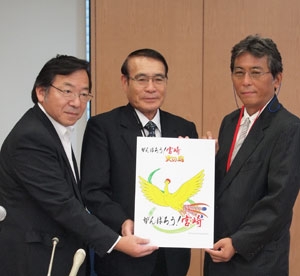 On August 6, a press conference to announce the logo was held.
After Mr. Shigeo Fuji, Executive Director of JA Zencyu explained how the logo was created, Mr Yoshihiro Shimizu, General Manager of Tezuka Productions, introduced the logo and handed it to Mr. Masaharu Haneda at JA Miyazaki Chuo.
Mr. Haneda, who received the logo, said "Now 1300 stock farmers are at a loss, without any hope to the future.  Under this logo, we would like to do our best to make Miyazaki recover as Phoenix, bring cow's bellowing and pig's oink back at live stock farmers, and deserve support from everybody.