(2010/07/06)


"Leonard Bernstein was a worldwide conductor who led the music scene in the late 21st century. Tezuka Osamu made him appear under his own name in the work titled "Peace Concert", and depicted him solemnly conducting.
This time the collaboration between Bernstein and Tezuka was realized as a part of commemorate projects for the 20th anniversary of Bernstein's death.
The DVD containing live footage of Bernstein conducting and a comic booklet of "Peace Concert" are packed in one set. The set is scheduled to be released on September 29, 2010.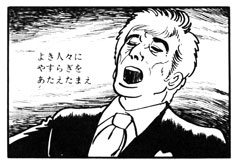 (An image from "Peace Concert)
Product Information
Release Date: September 29, 2010
Price: 3,780 yen (tax included)
Recorded in 1984 at Basilica of Ottobeuren.
Distributor: Dream Life department, Nihon Monitor Co. Ltd.
To visit the site of Dream life Classics, click here.