(2010/07/14)


New Product Information  Astro boy Stamp Set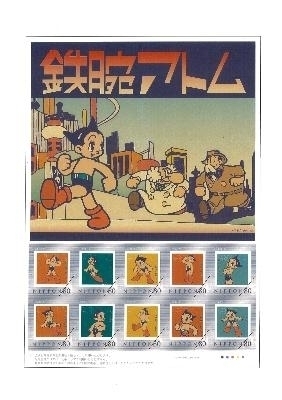 The Astro boy stamp set is released on July 23, 2010 at the post offices in the limited areas.
The stamps with cute retrospective designs are distributed with two postcards.  You will feel like sending letters to somebody! 
<Detailed Information>
Quantity sold: 15,030 sets
Point of sale: 
Post offices located in Shinjuku ward, Edogawa ward, Sumida ward, Koto ward, Kodaira city, Higashi-Murayama city, Higashi-Yamato city, Kokubunji city, Koganei city, Higashi-Kurume city, Kiyose city and Nishi-Tokyo city.  Nishi-Shinbashi post office.
Content: ten 80 yen stamps and two postcards. 
Price: 1,500 yen per set
People who live outside Tokyo also have a chance to get the stamps!
They will be available from July 25 on the WEB store operated by Japan Post Network. Note only 30 sets are released there.  For more information, click here.  (To the WEB store of Japan Post)