(2010/07/12)


-New Product Information-  Collaborative Products with RESQUE SQUAD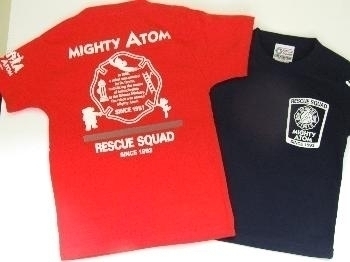 The 2nd collaborative products of Astro boy and RESQUE SQUAD have appeared.
Astro boy's "A" is designed with a ladder and a fire pomp in the emblem-like pattern on the front, while the silhouette of Astro boy, Uran and Dr. Ochanomizu are designed together with fire-fighting items on the back. This is exactly the collaboration!
In addition, the pattern on the back is printed with paint which reflects headlights so that pedestrian can walk safely at night.
The products are prepared for men, women and kids in various sizes.  Why don't you wear the T-shirt when you go camping with your family?
<Contact>
Harajuku: 03-3408-5567 (mail order available)
Ikebukuro: 03-5391-8535
Shimo-Kitazawa: 03-5733-0299 (mail order available)
Tachikawa: 042-540-2199
Nagoya: 052-264-8504
Kyoto: 075-222-1380 (mail order available) 
What is RESCUE SQUAD?
In 1993, the brand was established under the name of "FIRE FIGHTERS".  Since then the brand has been distributing products based on the images of fire fighters and rescue squads.  The brand sticks to the concept of "Love, courage and team work" and put priority on delivering messages when developing products.