(2010/07/01)


The Glass Earth on a scale of one to 580,000,000
Here is the special product only available at Tezuka Osamu Manga Museum, Earth Marble with the message of "Save the Glass Earth" written on the facial form of Astro boy.
"I do not want to make the earth dead for anything".  This is one of the messages Tezuka contained in "Save the Glass Earth".  
For the people who read the book, the marble would let them remember his messages.  For the people who have not read the book yet, the marble would encourage them to know more about his messages.
This marble, manufactured by LUMINE Associates, is a collaborative product with THE STUDY ROOM.  Though it is a small globe whose diameter is only 2.5 cm, the terrain is well depicted in it.  Why don't you obtain this tiny globe made from recycled glass?
Earth Marble "Save the Glass Earth"
580 yen with tax, available from July 3
Only available at the museum shop in Takarauzuka Tezuka Osamu Museum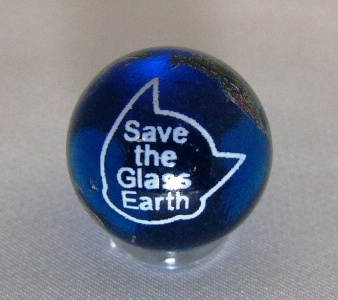 - This product is targeted to children older than 10 years old.
- Caution necessary not to swallow accidentally.