(2010/07/09)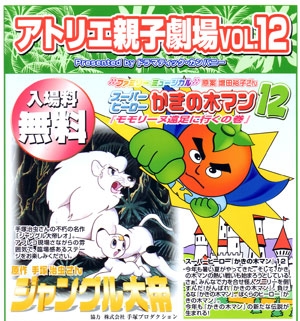 At "Natsu no Atelier Oyako Gekijo (Summer Atelier, the theater for parents and children) by Dramatic Company, Jungle Emperor will be screened with live voice over, which parents and children can enjoy together.
In this performance, Jungle Emperor Leo is screened with simultaneous voice over on the stage. Audience can experience the atmosphere as if they are attending at the site of actual animation productions.
screening, Family musical "Super Hero Kakinoki-man" is also performed.  Enjoy both Jungle Emperor and the musical Kakinoki-man!
-Performance period: July 29, 2010 – August 1, 2010 
-Door open at 10:30   Curtain at 11:00
-Venue: Atelier 81 (Setagaya, Tokyo) Click here for the schedule and vicinity map.
-Note this performance is targeted to elementary school children or younger.  Up to two adults can be accompanied by one child.  (No entrance for adults without a child.)
-Admission is stopped as all the seats are filled. 
-Reservation & Question: Dramatic Company Tel: 03-3410-9318