(2009/03/16)



The 2nd Issue:  Takadanobaba 2
Pictures and text by Kurosawa Tetsuya
To the legendary "Seven Building 
Guided by Yumiko Otake, who was involved in the production of murals at Takadanobaba station, I walked along Waseda Street towards Otakibashi to visit our next destination. 
On the pole of the street lights along the road were hoisted the pictures of Tezuka characters, as if it is the Tezuka Street. 
After walking for a while, a brown building called "Seven Building" appeared on the right.  Nothing seems special about this building, but this was the building in which Tezuka Osamu created various great masterpieces as well as set the office of Tezuka Productions from 1976 to 1988.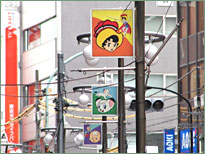 To the legendary "Seven Building"
Plates with Tezuka characters are attached to the street lights shaped like UFOS.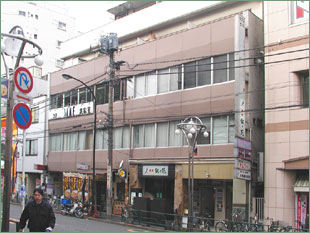 Tezuka Osamu's atelier used to be located in Seven Building.
Actually Ms. Otake also had her office in Seven Building; therefore, she had met Mr. Tezuka then.  That's why she became to be engaged in the production of the murals.
At that time, the second floor was occupied as a workplace and an office for Tezuka Productions while Mr. Tezuka rent another room for his atelier on the different floor so that he could concentrate on creation.
Mr. Tezuka engaged in his creation then was recorded in the program "NHK Special" broadcasted in 1986.  This program is now available on DVD.  Actually it has been the only program publicly introducing Mr. Tezuka working on his works.  You should not miss the program, if you haven't seen it yet.
Personally I came to the building around 1982 to borrow the still of "Marvelous Melmo" when I worked for a publishing company.  At that time, Mr. Tezuka's father kindly received me.  I heard it later that Mr. Tezuka's father always stayed in the office and took care of fans and visitors on behalf of busy Mr. Tezuka and his staff members.
By the way, you are not able to enter the room where Tezuka Productions used to be since Seven Building is a privately owned building and now a different tenant is occupying the space. Let's just imagine the days looking at the building from outside.
Mixed Sandwiches Mr. Tezuka loved
On the 1st floor of the building, there was a coffee shop called "Tsukasa" Mr. Tezuka frequently stopped by.  I also decided to visit the coffee shop with Ms. Otake.
We could hear from Mr. Shoji Yoda, the owner of the shop about Mr. Tezuka while having Mixed sandwiches with coffee (730 yen), which Mr. Tezuka often ordered out for breakfast.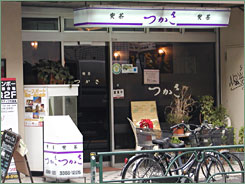 Coffee Shop Tsukasa.  Mr. Tezuka frequently visited the coffee shop then.
Business hours: 8:30 - 20:00
Holidays: Saturday, Sunday and national holidays.
TEL: 03-3362-8766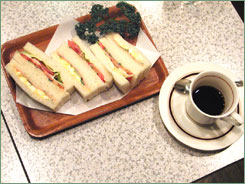 Mixed Sandwiches with coffee, which Mr. Tezuka often had for breakfast.  Oops! I have drunk coffee before taking a picture.
Mr Yoda, who becomes 74 years old this year, is still running the kitchen energetically.  He is also one of the owners of the building.  According to him, the building was owned by seven owners; therefore, it was named "Seven building" Mr. Yoda said, "I started this shop in 1964, just when Tokyo Olympic Games were held.  In 1974, we rebuilt the building but we had difficulties to find tenants due to its high rents. We had to set the rents high because of expensive building cost affected by the oil shocks.  At that time Tezuka Productions decided to move in.  Thanks to reputation of Tezuka Productions, all other rooms were occupied soon.  We were thankful to them very much".
According to Mr. Yoda, a lot of visitors to Tezuka Productions gathered at his shop as if it was a waiting room or something.  He also said, "Mr. Tezuka came here to do his work, though it was not very often.  Wearing his beret low over his eyes, he entered the shop sneakily. Then he sat in the back and wrote Manga."
"He was a very cheerful and friendly man, and always talked to me with kindness.  One day, Mr. Tezuka bumped against the automatic doors when leaving since he was too preoccupied by talking to me".
Even after Tezuka Productions left the building, Mr. Yoda kept Tezuka Production's sign placed outside the building for several years.
Later, the sign was replaced with a different company's one, but he still keeps a part of the sign (below) as his treasure.  He kindly showed it to us.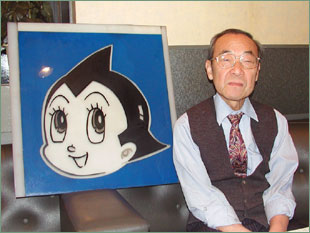 Mr. Shoji Yoda, the owner of Tsukasa
A part of Tezuka Productions' sign (next to him), which was placed outside the building.
Secret stories about Mr. Tezuka during his Seven Building days
After leaving Tsukasa, I parted company with Ms. Otake.  Then I headed to Tezuka Productions through alleyways.
At the present office of Tezuka Productions, I met Mr. S who was a private driver for Mr. Tezuka from 1964 till his death.
Mr. S told me why Mr. Tezuka had his office in Seven Building.
He said "It was just by chance. At that time, Mr. Tezuka lived in Shimoigura in Suginami ward.  He said he wanted to have his office in the center of Tokyo to reduce travel time.
One day, when we were driving on Waseda Street after finishing work very late at night, Mr. Tezuka happened to find the sign of NOW LEASING, and said 'Why don't we check it?'
I pulled over the car, and entered the building with Mr. Tezuka.  There was nothing inside, just bare concrete walls.  But Mr. Tezuka immediately decided to rent the space, saying 'it seems a good place to work, and easy access.'
As it is set that Astro boy was born in Takadanobaba, the place Ministry of Science located in the manga work, I was often asked that is why the office was moved in Takadanobaba.  Actually it was just coincidental (laugh). ".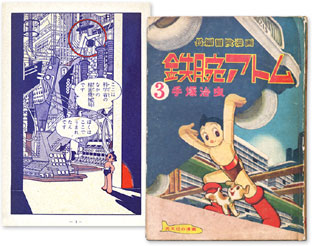 Ministry of Science where Astro boy was born was in Takadanobaba.
Above: "Tetsuwan Atom" vol. 3 published in 1957 from Kobunsha 
*Click on the image to enlarge
Well, I didn't know that.  However, seeing the town of Takadanobaba filled with the world of  Tezuka Manga, I felt it must have been inevitable that the office was located here though it was coincidental.
This time I could not introduce all the places associated with Mr. Tezuka in Takadanobaba.  I would like to visit and introduce such places some other day.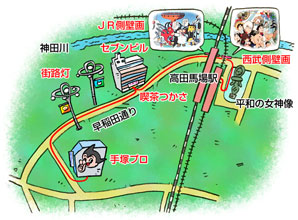 *Click on the image to enlarge.
(The number of steps; 2,350, Time 2 hours and 15 minutes)
Kurosawa Tetsuya
Born in 1957 in Tokyo. Freelance writer and manga story writer. The first Tezuka manga he encountered was Astro Boy and since then, for over 40 years, he has collected manga works of the Showa period and toys sold at mom-and-pop candy stores. He has written many Showa-retro related books and articles. Tezuka Osamu Fan Club membership number 364 (inaugural class).