(2010/09/16)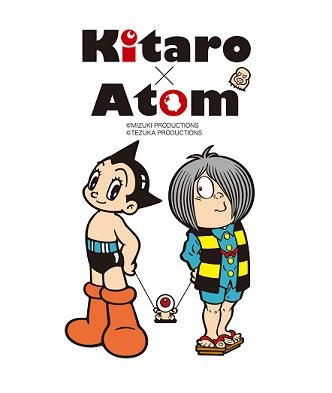 This July, KITARO X ATOM becomes three years old since its establishment in 2008.  
Also, its annual events are held in several venues as usual.
Some events have been decided to be held in the following venues including Chofu Parco. For upcoming events, please check this site in which related information will be uploaded continuously.
Special site at Ito Yokado Kawasaki
Period: June 23, 2010 to July 4m 2010/07/06
Special site at Chofu Parco (on the 1st floor)
Period: July 21, 2010 to August 8, 2010
Ito-Yokado Akita  Event space (the 5th floor)
Period: July 9 – July 25, 2010
Two min. walk from the west exist of Akita station (JR Uetsu-honsen/Ou honsen)
Ito Yokado Owari-Asahi  Exhibition Space in the food corner (the 1st floor)
Period: July 28 – August 15, 2010
Five min. walk from Sango station (Meitetsu Seto line)
Ito Yokado Hirosaki  Event Space (the 2nd floor)
Period: August 24 – September 5, 2010
Five min. walk from Hirosaki satation (JR Ou Honsen)
New Product Information
Product name: KITARO x ATOM Side printed T-shirts White
Product name: KITARO x ATOM Side printed T shirts Black
Size: S/M/L
Fabric: 100% cotton
Price: 3,045 yen (with tax, tentative)
Product name: Aluminum bottle Pink
Product name: Aluminum bottle Brown
Size: 500 ml.
Material: Aominum, PP
Price: 1,575 yen (with tax, tentative)
KITARO x ATOM is held at ESPA Kawasaki Ito Yokado
Place: Event space in ESPA Kawasaki (on the 1st floor)
Period: Sep. 28, 2010 – Oct. 11, 2010
Address: 2-2-1, Oda-Sakae, Kawasaki-ku, Kawasaki, Kanagawa
Transportation: 10 min. bus ride from JR Kawasaki Station (Keihin Tohoku line/Nanbu line)