(2009/06/15)


Finally, Astro boy local versions are released!
Finally, Astro Boy local versions are released! As the 1ststep, Hokkaido version and Okinawa version are launched from the northernmost and southernmost parts of Japan.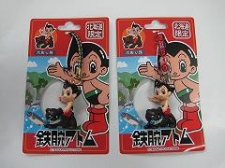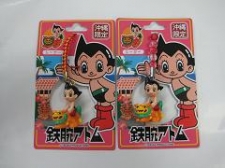 Left: Astro Boy Hokkaido version  Right: Astro Boy Okinawa version
In Hokkaido version, Astro Boy is riding on a carved wooden bear, the most representative souvenir of Hokkaido! Why don't you give it to your friend?  Sure he or she will love it!
In Okinawa version, Astro Boy and Shiisa, the Guardian Angel of Okinawa, appear together. Wearing this strap, you sure feel like somehow being protected!
Each version has two kinds, one with beaded strap and another with braded strap. All kinds are 450 yen.
Astro Boy local versions above are sold at the following stores.
Hokkaido    TOY BOX HOKUSUI at the 2nd floor of Shin-Chitose Airport Terminal building.  Contact: 0123-46-5992
Okinawa   Kumoji Shop of Bunkaya Kashi-ten at 3-2-1 Kumoji, Naha  Contact: 098-863-7559
More Astro boy local versions will be produced from now on.  You may encounter big-eyed Astro boy with local products somewhere in Japan.
Why don't you find such Astro boy local versions when you visit other prefectures?