(2008/04/01)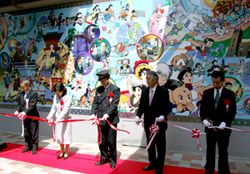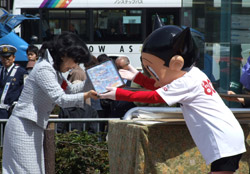 On April 5, 2008, the two murals with Tezuka characters were newly displayed on the walls under JR elevated railways and Seibu elevated railways respectively near Waseda exit of Takadanobaba station. In the morning of the day, the murals were unveiled, and the opening ceremony was held at 12:00, participated by many people including Mayor of Shinjuku, local shop owners, JR and Seibu railways officials, Takayuki Matutsni, President of Tezuka Productions, and Astro boy.
Click on the images to enlarge.
The stream of time in a day, from morning to night, was depicted through people's daily life and seasonal events in a style of traditional picture scrolls.
Right: the mural under the Seibu elevated railways
Based on the concept, "History and culture from past to future", various historical events occurred in Takadanobaba and Nishi-Wased areas as well as ideal images of the town in the future are depicted together with Tezuka characters.
Please visit the murals if you have a chance to come to Takadanobaba. The explanatory panels are also displayed.