(2010/06/07)


The Umbrella Decoration Stickers make rainy days happy!
The rainy season is coming. Don't you feel blue on a rainy day?  Now cute umbrella stickers of Sapphire and Pinoko are released.  Why don't you put these stickers on your umbrella to change your mood?
There are four kinds per character (a total of 8 kinds), and each package contains two stickers, a character sticker and a background sticker. A background sticker can be cut into the shape you like.
Of course, the stickers are waterproofed. No need to worry about rain!  Why don't you make your original umbrella with these stickers? Or, put them as your own mark?  Also the stickers can be used on other products such as bags or bicycles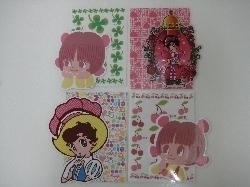 Product name: Amagoi
Price: 525 yen (tax included)
Distributor: Tomo JSP.
For more information, click here. (To the introduction site of Amagoi)