(2010/05/31)


On May 28, 2010, the 14th Tezuka Osamu Cultural Prize Ceremony was held in Tokyo.  The speeches given by the prize winners sometimes drew laughter from the attendees and the ceremony proceeded in a friendly atmosphere.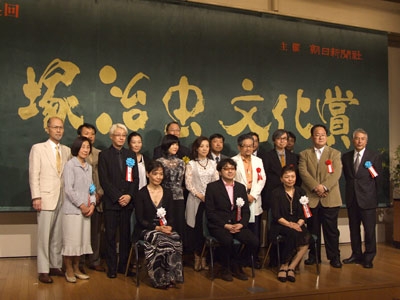 More about the ceremony will be reported in Mushinbo's July issue (scheduled to be released in July 1).  Don't miss it!
Prize winning works/Prize winners
Manga Taisho (Manga Grand Prize)
Heugemono (published from Kodansha) by Yoshihiro Yamada
Shinsei Sho  (Prize for New Creation)
Mushi to Uta (published from Kodansha) by Haruko Ichikawa.  The work received the prize for its new style well depicting the interaction and transience of life.
Tanpen Sho (Prize for Short Work)
THEREMAE ROMAE (published from Enterbrain) by Mari Yamazaki
Tokubetsu Sho (Special Prize)
The late Yoshihiro Yonezawa  He received the prize for his great achievement including collection of basic materials for Manga study and critical activities in his life.