(2010/06/01)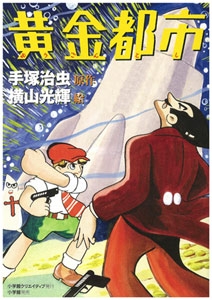 This book is a collection of collaborative works between Tezuka Osamu and Yokoyama Mitsuteru created just after the debut of Teauka.  Unreleased work Kumojima no Boken is firstly compiled too.
Contents
"Ogontosh"i," Tazan, no Dokutsu", "Kairyu Hatsuden" (published in the supplement books of the magazine Shonen in 1955), and "Kamen no Bokenji" (published in the supplement book of Shonen Club in 1956) are again contained in this large-sized book.  Plus, "Kumojima no Boken", a work newly discovered this time is firstly contained in. 
This collection is also a precious material through which we can learn the course of Yokoyama's development as well as a record of exchanges between Tezuka and Yokoyama, two big names in post-war Manga world. Kumojima no Boken , well arranged by Yokoyama based on Tezuka's original story, is worth reading even for fans of Tezuka.
Biography
Yokoyama Mitsuteru
Yokoyama Mitsuteru, born in Hyogo prefecture in 1934, made his debut in 1955 with Otonashi no Ken. Then he serialized Tetsujin 28go in a boy's magazine.  The work mad a huge hit, turned into animations.  His other works including "Iga no Kagemaru", "Mahotsukai Sally", "Sangokushi" and "Suikoden" also became popular. Yokoyama passed away in 2004.
Tezuka Osamu
Tezuka Osamu, born in Hyogo prefecture in 1928, made his debut in 1946 with Shin Takarajima. Subsequently he published a lot of works such as "Jungle Emperor" "Mighty Atom" and "Princess Knight" one after another.  He became one of the leading artists in post-war Manga world and left a significant influence on young artists.  In 1962 Tezuka established Mushi Production to create animations.  His major works includes Phoenix, Buddha, Black Jack, Three eyed one, Ode to Kirihito and Three Adolf.  Tezuka passed away in 1989.
Information
Title: Ogontoshi
Author: Yokoyama Mitsuteru (Original Work by Tezuka Osamu)
Price: 1,365 yen (with tax)
Size: A5 size
Number of pages: 128
ISBN:978-4-7780-3139-8
Release date: June 1, 2010
Publisher: Shogakukan Creative
Distributor: Shogakukan