(2010/05/19)


Charitable organizations which Atom Card would make donations were selected.
Atom Card, which has made donations for activities aiming to realize children's dream, selected two organizations for the year 2009. About 3,600,000 yen, the amount equivalent to 0.3% of yearly usage amount of the credit card is donated to Zenkoku Jido Yogo Shisetsu Kyogikai (Japan children's home Association) and NPO SABJA by the end of May.  The total amount Atom Card has ever donated is about 23,600,000 yen, including the donation for 2009.  
Overviews of the organizations selected for 2009:  
1. Zenkoku Jido Yogo Shisetsu Kyogikai
Zenkoku Jido Yogo Shisetsu Kyogikai, which Atom Card has donated to for seven consecutive years, is engaged in organizing children's homes adopting neglected or abused children under inappropriate environment and supporting healthy growth and development of such children.  Since the last fiscal year, the organization has started "Atom Fund Move-up Support Program" using donations from Atom Card. This program aims to aid college and vocational school students who are imposed a lot of financial burden, including tuitions and textbook fees, when they move up to the next year. Last year 34 students applied to the program and received the finance.  
2. NPO SABJA (SERV.DE ASSIS. AOS BRAS.NO JAPAO)
NPO SABIA is engaged in contributing Japanese local communities by providing Latin Americans including Brazilians living in Japan with opportunities to exchange with Japanese people.  At the same time, the organization aims to contribute international exchanges by promoting Japan-Brazil cultural exchanges.  The donation is utilized for "the 21st century dream project for youth", a project that supports Brazilian children living in Japan so that they can adapt to Japanese society and maintain the identity of their own country  
Donation Ceremony
The conation ceremonies were held at each organization.  
1. At Zenkoku Jido Yogo Shisetsu Kyogikai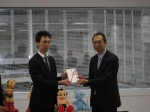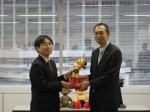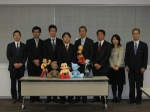 At the ceremony, grateful voices from students who were financed by the "Atom Fund Move-up Support Program" were reported. It seems each student has a certain goal and is utilizing the program effectively for their study. According to the organization, the advancement ratio of graduates from children homes is 19%, which is still low compared to 68%, the average advancement ratio in Japan. We hope the donation can be a help for the students advancing to colleges or vocational schools.  
2. NPO SABJA (SERV.DE ASSIS. AOS BRAS.NO JAPAO)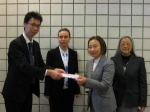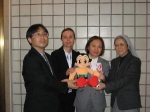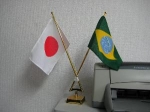 NPO SABJA was selected this year since Tezuka Osamu maintained close relationship with Mr. Mauricio de Sousa, a popular Brazilian Manga artist during his life. According to SABJA, many Brazilian workers and their children in Japan are now in trouble due to the recession triggered by Lehman Shock.  Under such circumstances, the number of Brazilian children who are not able to go to school is increasing, and a part of those children become to act against social morals. Also many of them are not able to have their own identities, having difficulties in getting along with their county as well as Japanese society.  
The donation is supported by Atom Card's members who use Atom Card in their daily life. We appreciate your continuous cooperation.
What is Atom Card?
Atom Card was launched on April 3, 2003 through affiliation with Cedyna Financial Corporation, celebrating the birth of Astro Boy. In his life, Tezuka Osamu had a hope to do something for children's future.  Based on such his hope, the Atom Card is contributing the society by means of donating 0.3 % of usage amount of the cards, and Atom Card Committee, consisting of members from Tezuka Productions and Cedyna Financial Corporation, selects the suitable organizations the donation will be made to every year. For more information about Atom Card, click here (to Cedyna's website).