(2010/04/23)


Astro boy appears on women's underware!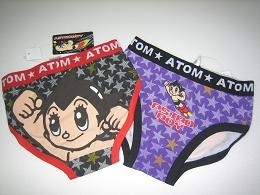 Women's underware with Astro boy is now on sale!  
Astro boy deformed in a pop art style is very cute, isn't it? On back, close up image of Astro boy is also designed. There are two versions available with different colors: Red/Black and Black/Purple. Why don't you ware it to stir fighting spirit?  
Available at Fashion Center Shimamura
Price: 579 yen (tax included)
Distributor: Grace