(2010/04/21)


On April 29, Astro boy appears at the opening event of new CONVEX store in Harajuku!
Astro boy appears at CONVEX new store at 12:00 on April 29.  CONVEX is a kid's apparel brand known for ATOMUTAN.  The special design, in which Astro Boy and Mutan are surrounded by other Tezuka characters, is newly developed to celebrate the opening of the store. There are various products with this design! Check them at the store!
CONVEX Harajuku Store 
101 Jungu Square, 3-22-1 Jungumae, Shibuya, Tokyo
For further information: http://www.convex.jp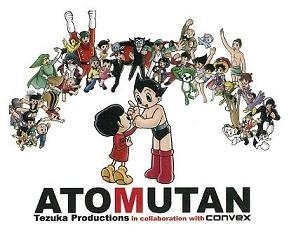 What is ATOMUTAN?  
ATOMUTAN is a collaborative brand of Astro boy and Mutan established between Tezuka Productions and Takashi Arii.  The brand is mainly targeted to boys who yearn for a hero of justice. One day Mutan was watching Astro boy on TV. Then Astro boy suddenly jumped out from the TV!  Mutan, putting on Astro boy suits given from Dr. Elephant, is now flying out to the world of dreams and adventure with Astro boy!