(2010/04/07)



Circulation Period: April 7, 2010 – February 28, 2010.
Atom Currency is a way to show your appreciation. For more information, click here.
What it the 7th Atom Currency?
"Education" is added as a new philosophy.
The Atom Currency, started on April 7, 2004 in Takadanobaba/Waseda area to commemorate the birth of Astro boy, has been circulated as a local currency given to activities good for global environment, local communities and international society, based on its main theme: "for children's future", and utilized to promote social services, cultivate local communities, and revitalize shopping streets in the area.
This time, the 7th Atom Currency activity, adopted a new principal "Education" The currency will be actively utilized in the field of school education and help students learning more about local communities and participating in environmental protection activities.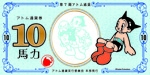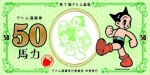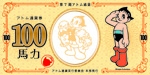 The 7th Atom Currency (Above)
Atom Currency in five areas.
Since the 6th period, the Atom Currency has been adopted not only in Takadanobaba/Waseda area but also in some other areas, based on the know-how developed in Takadanobaba/Waseda area.  For the 7th period, the currency starts in five areas including Takadanobaba/Waseda, Sapporo, Kawaguchi, Tokushima and Matsuyama, and is expected to start in some other areas.    
Each area issues the currency with its own designs.
Every period, the Atom Currency appears in new designs. Plus, from the 7th period, each area issues the currency with its own designs featuring the local color.  Such currency can be used not only in the area but also in other areas adopting the currency.  Why don't you try to collect all kinds?  
Nominated as 2010 Eco Action Point model project by Ministry of Environment
The Atom Currency has been nominated as Eco Action Point model project by Ministry of Environment for consecutive three years. The activity will further promote various eco programs including reduction of plastic bags and collection of plastic bottle caps together with local communities to realize reduction of 100 tons of CO2.  
Atom Currency Member Store Mark

The marks above are displayed at the Atom Currency Member Store.  Get the currency as a compensation for something good you have done!
Please participate in the Atom Currency activity together with us.