(2010/04/01)


POs-Ca Event @ Shibuya PARCO
On March 28 (Sun), a guerrilla event to promote Ezaki Glico's gum, POs-Ca was held at Shibuya PARCO.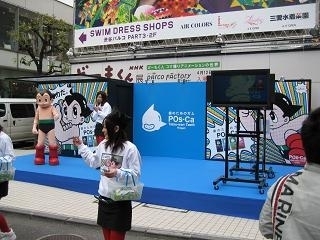 The event, consisting of sample distribution, Astro Boy's photo session, voiceover trials, quiz shows and more, was crowded with a lot of audience.  
Check the outfits of the lady distributing samples in the picture above.
Red tights, a black skirt, a green belt, and a cap with Astro boy's horns!  She is cosplaying as Astro boy.  How cute!  
This event will continue to be held, but no body knows when and where it will take place next.  If you luckily encounter the event, please join and have fun!