(2010/03/16)


"tezuka moderno" Sport Series designs are newly lined up!
tezuka moderno's Astro Boy and Uran in various sport outfits just appeared in the sales promotion for "Mitsuya Cider All Zero" by ASAHI Beverage.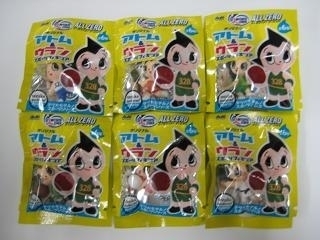 During the promotion, small figures of Astro Boy or Uran in sport outfits are attached to 500 ml. bottles of Mitsuya Cider All Zero. 
A total of six kinds of outfits (three for Astro boy and three for Uran respectively) are presented.
Don' t miss any of the outfits!!  Some of the uniform numbers are "328" which can be pronounced Mi-tsu-ya! (Above, Astro Boy / gymnastic outfit)  
Now hurry to get all six versions at the store. 
The promotion will be finished as soon as the present stock has run out. The product is now available at convenience stores nationwide!  
* Please note the product is not sold at some convenience stores.