(2018/11/08)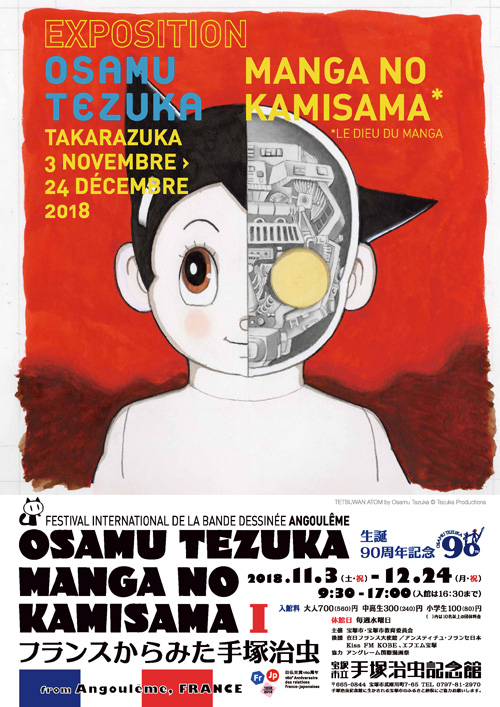 One of the biggest manga festivals in Europe, Angouleme International Manga Festival is held in Angouleme, a cit located in western France, every year. The festival, which began in 1974, celebrateed the 45th anniversary in 2018 as the oldest manga event in Europe. Tezuka himself visited the festival in 1982.
During the festival period, various events are held through the city to introduce excellent manga works from all over the world.
In 2018, the festival held the exhibition: OSAMU TEZUKA MANGA NO KAMIAMA, featuring Osamu Tezuka. The exhibition was well-received among a lot of visitors in France, and was decided to be toured to Japan. At TOMM, the exhibition was held through the 75th and 76th exhibition period, presenting the exhibits with the least changes to the content planned by the French curator, which gives us new attractions of Tezuka through the view point of non-Japanese curator.
Contents of the Exhibition
The 75th exhibition introduces the 1st, 2nd and 3rd part of the exhibition: OSAMU TEZUKA MANGA NO KAMISAMA held in Angouleme, consisting of a total of 5 parts.
The 75th Exhibition (from Nov. 3, 2018)
Part 1: A Time of Innocence – The Birth of Modern Manga  1856- 1950
Part 2: The Pursue of Ideals – Development of Manga in Youth 1950-1965
Part 3: Facing the Reality – Arrival of Adult Maga/Gekiga 1966-1978
The 76th Exhibition (from April, 2019)
Part 4: Revolution of Animation – Mushi Pro's Challenge 1962-1973
Part 5: Encounter with History – The Legacy to the Next Generation 1972-1989
Period: Nov. 3, 2018 – Dec. 24, 2018  9:30-17:00 (last admiccion:16:30)
Venue: Tezuka Osamu Manga Museum  Exhibition room (2nd fllor)