(2018/10/25)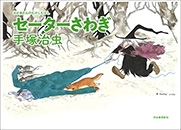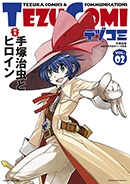 <Tezuka Osamu's Titles>
Sweater Sawagi (picture book) /Kawadeshoboshinsha/ 1,700 yen/ Nov.14,2018
The Phoenix 11 The Sun #2/ KADOKAWA/  880 yen/  Nov. 22,2018
The Phoenix 12 The Sun #3/ KADOKAWA / 880 yen/  Nov. 22,2018
Tezuka Osamu no Jigaigeki Meisakusen (Shufunotomo Hit Series)/ Shufunotomosha/ 593 yen/ Nov. 29,2018
<Books/Magazines related to Tezuka Osamu>
TEZUCOMI vol.2 / Authors: Tezuka Osamu etc./ Micro Magazine/ 880 yen/ Nov. 5, 2018
TEZUCOMI vol.2 Limited Edition/ Authors : Tezuka Osamu etc./ Micro Magazine/ 1,450 yen/ Nov. 5, 2018
*The prices above are without taxes.
Feature of the Month
"SWITCH " vol.36, No. 11  Switch Publishing
The special feature on Bokeno by Tezuka Osamu, commemorating the 90th anniversary
- Atom no Saigo (all episodes)
- Talk between Seitaro Kuroda and Makoto Tezuka
- Poem: Tetsuwan Atom by Shuntaro Tanigawa (illustration by Masakatsu Shimoda)
- New Treasure Island (modified by Seitaro Kuroda)
- New Treasure Island (manga serialization)
-Commentary on New Treasure Island (Makoto Tezuka/Takayuki Matsutani (President of Tezuka Productions)
- Tezuka Osamu's bookshelves  1,080 yen (now for sale)
Atom the Beginning
Serialized in Monthly Heros* 200 yen    *only available at seven eleven
The story before the birth of Astro Boy
Original idea: Tezuka Osamu
Concept works: Msami Yuki
Manga: Tetsuro Kasahara
Supervisor: Makoto Tezuka
Cooperation: Tezuka Productions Co., Ltd.
The comic book version vol.8 is now for sale.
Young Black Jack
Original work: Osamu Tezuka
Script: Yoshiaki Tabata
Manga: Yugo Okuma
Serialized in Young Champion.
The 13th volume is now for sale.
Dr. Kiriko – Shiroi Shinigami
The spin-off of Black Jack, featuring Dr. Kiriko
Original work: Tezuka Osamu
Cooperation: Tezuka Productions
Story: Yuki Fujisawa
Manga: sanorin
Serialized in Bessatsu Young Champion
The comic book version vol.4 is now for sale.
Konna Black Jack wa Iyada
The parody of Black Jack "
Now serialized in eBig Comic4 on free e-book site
https://www.ebigcomic4.jp/title/411058
Manga: Tsunogai
Original Work: Tezuka Osamu
# Konna Black Jack wa Iyada
The comic book version vol.2 is now for sale.
Dororo
Now re-serialized in COMIC KON, a monthly Samurai Drama manga magazine.
Publisher: Hachidori
Distributor: Shufunotomosha
☆TEZUCOMI,
The commemorative magazine for the 90th anniversary of Tezuka Osamu is newly published (a total of 18 volumes)!
Today's popular artists, both in and outside Japan, create unique works based on Tezuka's original works for the magazine.
Plus Tezuka's masterpieces are serialized in each issue.
TEZUCOMI entertain not only Tezuka fans but also readers who do not know Tezuka very much worldwide.
In addition to normal edition, the limited edition, with the special giveaway (character medal) is released.
◆TEZUCOMI vol.1: Feature: The first Tezuka Osamu
Both normal/limited editions for sale
◆TEZUCOMI vol.2: Feature: Tezuka Osamu and Heroin
Both normal/limited editions are released on Nov. 5, 2018
For the latest information:
Site: https//tezucomi.net
Twitter: http://twitter.com/tezucomi
☆Tezuka Osamu Shoten
All books, magazines and goods related to Tezuka Osamu are available. Plus some products and services limited at the store are offered!
Maruzen Marunouchi store (Tokyo)
Address: Marunouchi oazo shop & restaurants 3F, 1-6-4 Maruochi, Chiyoda, Tokyo
Hours: 9:00 – 21:00
No regular holidays
Junkudo Shoten Nagoya Sakae store (Nagoya)
Address: B1F, Meiji-Yasuda Seimei Nagoya Bldg., 1-1 Shinsakae, Naka-ku, Nagoya
Hours: 10:00 – 20:00
No regular holidays
Maruzen & Junkudo Shoten Umeda store (Osaka)
Address: 6F., CHASKA Chaya-mahcim 7-20 Chaya, Kita-ku, Osaka
Hours: 10:00 – 22:00
No regular holidays
Maruzen Gifu (Gifu)
Address: 3F, Masa 21, 1-2-1 Masaki-naka, Gifu, Gifu
Hours: 10:00 – 21:00
No regular holidays
Taipei Dunnan (Taipei)
Address: Eslite Dunnan Branch 2F (Taipei, Taiwan)