(2018/10/05)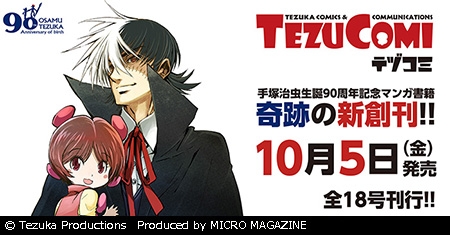 In commemoration of the 90th anniversary of Tezuka Osamu, the magazine compiling Tezuka manga works adapted by today's popular artists in and outside Japan has begun.
TEZUCOMI The 1st Issue <Feature: The first Tezuka Osamu>
Release Date: Oct.5, 2018 (Fri.)
Price: 880 yen (tax excluded) for normal edition, 1,450 yen (tax excluded) for limited edition
Publisher: Micro Magazine
♠Cover
Mikado Muramasa
♠Manga
Search and Destroy (based on Dororo) by Atsushi Kaneko
Shinyaku Princess Knight (based on Princess Knight) by Bureido (Mikado Muramasa/Roba Miyamoto/Toshikiri Hamamura)
Ayako (based on Ayako) by Kubukurin
Ouno! Mamoru-kun (based on Ambassador Magma) by Shiriagari Kotobuki
Chokotto Dracula (based on Don Dracula) by KinoEno
Toraware no Eden Prime Rose (based on Prime Rose) by Shoichiro
Wada Radio no Hinotori (based on Phoenix) by Radio Wada
Osamu no Kuni no Alice by Kentaro Ueno
Guruguru Gyun by Arusen Shimure
♠Novel
Aoi Ribbon to Gin no Kami (based on Princess Knight) by Fuu Furuse (illustration by Ringo Takanashi)
♠Works by overseas artists
Princess Knight (based on Princess Knight) by Mauricio de Sousa
Hartless (based on Black Jack) by Joe Kelly (script), Ken Niimura (manga)
♠Special Talk
Lalala no Ochanoma by Rumiko Tezuka (illustration by Tsunogai)
♠Column
What the god of Manga taught me by Takafumi Horie
♠Masterpieces by Tezuka Osamu
Phoenix Hoo
Chronicles of Astro Boy
Black Jack
★Limited Edition★
The special character medal is attached to TEZUCOMI limited edition as a premium!
URL: https//tezucomi.net/