(2018/06/20)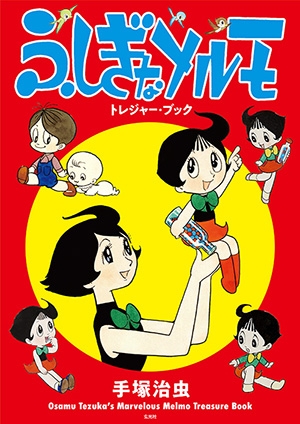 The visual book containing treasured materials for TV animation series "Marvelous Melmo" is released for the first time!
The TV animation series "Marvelous Melmo" consisting of 26 episodes was planned/produced in 1971.
This visual book is the very first compilation of the treasured manuscripts for the series hand-drawn by Tezuka himself.
In addition, some precious manuscripts as well a related materials, including unpublished original manuscripts found at Tezuka's study in March, 2014, original color graphic illustration drawn by Tezuka for the series and 14 original manga episodes not contained in Tezuka Osamu Manga Compilation (including 3 episodes firstly released in the form of book) are contained in the book.
Marvelous Melmo Treasured Book
Release Day : End of July, 2018
Price : 4,500 yen (tax exlucded)
Content :
- Original Manga (including some episode not contained in Tezuka Osamu Compilation)
- Original Layout by Tezuka Osamu
Episode 2: Burako Doko e Iku
Episode 3: Otokonoko wo Yattsukero
Episode 11: Anoko wo Nigasu na
- Original Color Graphic Illustration by Tezuka Osamu
- Materials
The Plan for "Apollo's Song" (Plan for "Marvelous Melmo" (draft))
Interview of Jun Shimozaki (line-producer of "Marvelous Melmo")
Music for "Marvelous Melmo"
Synopsis of each episode
Treasured sketches
Related goods
- Bibliographical by Takashi Hamada
Specification :
A4/soft cover/304 pages/4C (partially 1C)