(2009/11/06)


Astro boy appears on the poster for Osaka Pavilion!!
Astro Boy appears on the poster for Shanghai Expo Osaka Pavilion.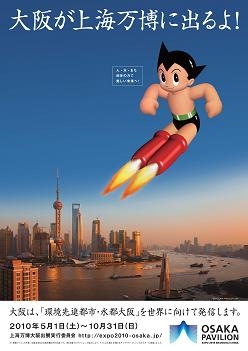 The poster, with Astro Boy flying over Shanghai, was created to promote the joint participation of Osaka prefecture and Osaka city in Shanghai Expo in 2010.
They are mainly posted at the subway stations in Kansai area. Residents in Kansai, don't miss out the poster at the stations!  
For further information, visit the site below:  
Osaka Prefecture Information for Press Osaka City Information for Press