(2017/10/05)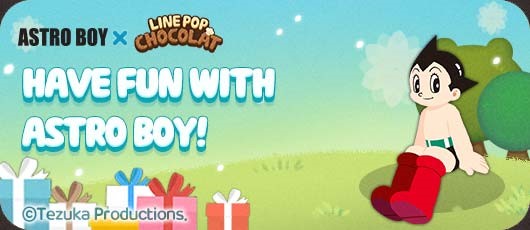 LINE POP Chocolat, a free-to-play, hexagon-based puzzle game from LINE Corporation available on iPhone and Android devices, has started a crossover collaboration with the internationally beloved masterpiece anime Astro Boy, adapted from Osamu Tezuka's manga series of the same name.
In this collaboration, Astro – a kind-hearted android who looks like a young boy, but boasts 100K horsepower strength and human emotions – together with his sister Zoran, his loyal supporter Dr. Elefun, and his watchdog Jump will appear as exclusive Decorations. Additionally, a tie-up stage map, a Picture Collection Event, and other special events will be held.
Specifications
Title: LINE POP Chocolat
Supported devices: Android, iPhone
Supported languages: English, Chinese (traditional), Korean, Japanese, Thai
Supported regions: Global except Korea, China, North America, and Europe
Service launch: October 27, 2016
Cost: Free-to-play (offers in-app purchases)
Developer: NHN Pixelcube
Operator: LINE Corporation
Copyright: ©NHN Pixelcube.All Rights Reserved.
Official website: https://chocolat.game.line.me/
Download
Android and Google Play are registered trademarks of Google Inc.
iPhone, iTunes and App Store are registered trademarks of Apple Inc., registered in the US and other countries.
All other trademarks are the property of their respective owners.
All information is true and accurate at the time of publication, and subject to change without notice.
About LINE POP Chocolat
Solve the Puzzles and Decorate the Sweet World of Chocolat
LINE POP Chocolat stars Brown as he traverses the world over in search of the legendary chocolat. As part of the LINE Games portfolio, LINE POP Chocolat is the latest addition to the phenomenally popular series LINE POP that has topped 60 million downloads worldwide since the release of the original LINE POP. Players eliminate hexagonal blocks by lining up three or more of the same character blocks, and are dished up cakes and chocolate when they successfully eliminate blocks vertically or diagonally. The game is characterized by its cute design and sound, wide array of gimmicks that differ per stage, exhilarating play experience when special blocks are used, challenge of efficiently eliminating blocks within a limited number of moves which requires a high level of strategy, all making LINE POP Chocolat a simple yet tantalizing game. Other popular features of LINE POP Chocolat include "Decorations," an item that players can apply to stage maps to change their visual appearance and create their very own "Chocoland," and "Landmarks," an item designed after famous buildings and other landmarks around the world that takes players on a virtual, globe-trotting journey. Both items can be obtained during gameplay and are bound to heighten the feeling of accomplishment for players as they clear stages.