(2010/02/25)


Many letters of thanks were sent to us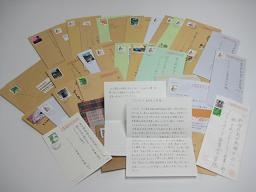 We have received a pile of thank you letters from people who were subsidized by the promotion support subsidy program of the Atom Fund. Donations from the Atom Card Committee to the National Council of Homes for Children were used for this subsidy program. Candidates for the program are second-year students of a college, junior college, or vocational school, who used to be in a children's institution. It is very important for a child to go to a college, junior college, or vocational school in order to become self-reliant after leaving a children's institution. But textbooks and other expenses required for advancing to the second year entail enormous expense for them. Therefore, the program is intended to remove this financial burden from children who advance to the second year and to support them in becoming self-reliant.   Many people who received the subsidy sent us letters. Some wrote about their dreams or resolutions for the future. Go for your dreams!  
Use of the Atom Card on a day-to-day basis makes the program possible. We would appreciate the cardholders' continuing support for the Atom Card.    
What is the "Atom Card"?
The "Atom Card" was launched in April 2003 in partnership with Cedyna Financial Corporation to commemorate the birth of Atom (Astro Boy).
Tezuka Osamu's spirit, hoping children to realize their dreams and helping children to create the future, was behind this "Atom Card." It is a social contribution type credit card and 0.3% of the amount paid using the card is donated. Every year, the "Atom Card Committee," which consists of representatives from Tezuka Productions and Cedyna, selects organizations which are consistent with the principles of the "Atom Card" to receive donations. Detailed information about the "Atom Card" is available here (taking you to the Cedyna website).