(2008/10/31)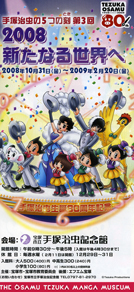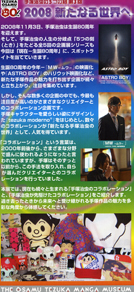 Period: October 31, 2008 – Febrary 20, 2009
Venue: Tezuka Osamu Manga Museum
The 3rd day of November, 2008 is the 80th birthday of Tezuka Osamu, and this exhibition, the 3rd of the consecutive five exhibitions, features Tezuka in the present days.
For his 80th anniversary, a lot of projects in connection with his works, including the theatrical animation "Astro Boy" (Hollywood version) and the live-action movie, MW, were established to attract people's interest.
Among those projects, the collaborations with various creators are now attracting the most attention. As represented by "tezuka moderno", several collaborative works based on Tezuka characters are gaining popularity as "the new style of Tezuka".
The term "collaboration" has become to be heard in various fields since around 2000. Tezuka, however, did collaborate with creators he chose from a long time ago.
This exhibition focuses on such his collaboration as well as today's collaborative works based on Tezuka's works form various aspects.