(2008/03/01)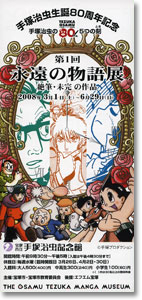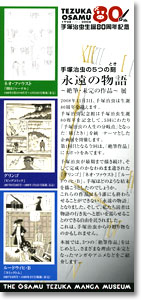 Period: March 1, 2008 – June 29, 2006
Venue: Tezuka Osamu Manga Museum
November 3, 2008 is the 80th birthday of Tezuka Osamu.
In commemoration of the 80th anniversary, TOMM holds five exhibitions in series based on "time" focusing on the turning points in his life.
The 1st exhibition features his last works.
Gringo, Neo Faust, and Ludwig B were the works Tezuka kept authoring till he left this world. What endings did Tezuka have in his mind for those uncompleted works?
Now we have no way to know the endings. Instead we are given a chance to freely imagine the direction of the stories, which we can say might be a gift from Tezuka.
The exhibition introduces the three uncompleted works above as well as other uncompleted works due to various reasons.