(2000/01/01)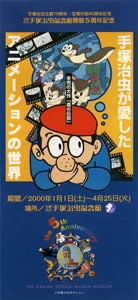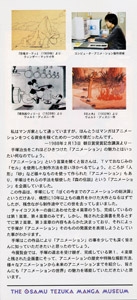 Period: January 1, 2000 – April 25, 2000
Venue: Tezuka Osamu Manga Museum

"I am known as a manga artist, but manga was one of ways to raise money to make animation for me." by Osamu Tezuka at Asahi Prize Memorial Speech on Feb. 13, 2000

Why is animation so irresistible for him? Most people imagine cell animations commonly used in production of TV animation on hearing the term "animation". However there are some other kinds, such as puppet animation and sand animation, and Tezuka was planning to make "Legend of the Forest" with such methods.

Tezuka said this work was the compilation of his animation. Actually he spent more than 10 years for the planning to make it a big piece though unfortunately he left this world before the completion. In Tezuka's original plan, it should have consisted of four parts based on the 4th Suite by Tchaikovsky, but he could complete only the 1st and the 4th part, leaving other two parts uncompleted. But he had already decided on the contents for the 2nd and 3rd part, which was left in the written plan. Indeed, the left plan shows that Tezuka was trying to express the development of animation through the work. Tezuka must have wanted people to understand animation a little bit more with the work.

This exhibition introduces a history of animation as well as various shooting methods along with the completed 1st and 4th part and the written plan left. Also it introduces various animations now existing or developed in future so that the visitors can fully enjoy the attraction of animation.