(1998/09/03)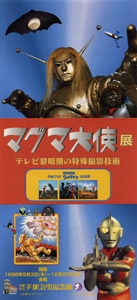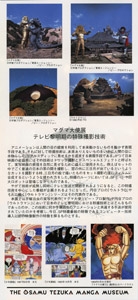 Period: September 3, 1998 – December 20, 1998
Venue: Tezuka Osamu Manga Museum
Animation is a means of expression to animate stationary objects by utilizing optical illusion of humans while SFX is a means of expression to pursue showing unrealistic situation as real as possible.

The SFX was used a lot in live-action movies during the heyday of Japanese movie industry. It was after then the SFX became to be used for TV programs of sci-fi heroes and gigantic robots. "Ultra Q" and the "Ultraman" series produced by Tsuburaya Productions were the representative works with SFX.

This exhibition focuses on SFX utilized in the two programs: "Ambassador Magma" and "Ultraman", and explores the features seen in the early stage of Japanese TV broadcasting before the arrival of computer technologies, examining the techniques as well similarities found in Tezuka's animation works.