(2009/02/18)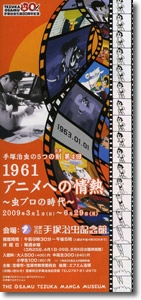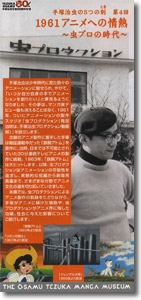 Period: March 1, 2009 – June 29, 2009
Venue: Tezuka Osamu Manga Museum
Tezuka Osamu, inspired by animation works he saw during his youth, dreamed of creating animation works. Even after making his debut as a manga artist, he still kept the dream alive and finally established his own animation studio, Mushi Production (animation dept, of Tezuka Production, then) in 1961.
Then he challenged the production of 30 min TV animation series, which was thought impossible then in Japan, based on "Astro Boy", his manga work serialized on magazine. In 1963, TV animation series "Astro Boy" made a big hit. Following the success of "Astro Boy", Mushi Production pursued the further possibility of animation, exploring new genres from theatrical feature animations to experimental short animations.
This exhibition introduces Tezuka's enthusiasms toward animation as well as impacts Mushi Production brought to the animation industry by tracking it shistory in animation production.