(1999/09/09)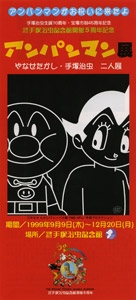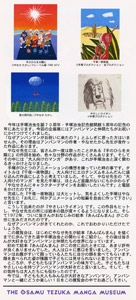 Period: September 9, 1999- December 20, 1999
Venue: Tezuka Osamu Manga Museum
The year 1999 is the 70th anniversary of Tezuka Osamu and the 5th anniversary of Tezuka Osamu Manga Museum, and Anpanman just came to the museum to celebrate the anniversaries!
Why Anpanman? This attributes to Tezuka's relationship with Yanashi Takase, the author of Anpanman as well as the songwriter for "Tenohira wo Taiyouni", a famous song most Japanese have sung at least once.
Actually he was involved in the creation of various genres, including manga for adults.
It was then Tezuka encountered an adult manga authored by Yanase while working on the plan for "One Thousand and One Nights", an animation work targeted for adults filled with eroticism.
Tezuka called Yanase without any hesitation although he never met him before, asking him to design characters for the work.
One Thousand and One Nights made a big hit. Tezuka, very pleased at the result, offered Yanase an opportunity to produce a short animation work for him, saying "Why don't you make a short animation work as you like?"
Thus the work "Yasashii Lion" was produced.
Yasashii Lion also made a hit, which brought Yanase offers for picture books one by one, and the popular picture book "Anpanman" was published in 1972.
Now it's clear why Anpanman came to the museum.
This exhibition follows Yanase's path till he created Anpanman as well as introduces his relationship with Tezuka. The exhibition also features the world of Anpanman and his companions.
Actually Anpanman was not well received when it was published firstly.<br>Some adults said it's too cruel for kids to see Anpaman whose face was eaten (Anpaman offers his bread-made face to hungry people as food in the story). <br>But kids loved Anpanman, a kind and gentle hero for them.
Now Anpanman is a hero for everybody, loved by both adults and kids.
Visitors for the exhibition will surely have pleasant time with Anpanman.