(1999/01/01)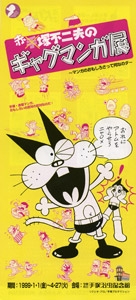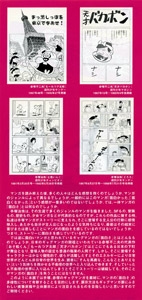 Period: January 1, 1999 – April 27, 1999
Venue: Tezuka Osamu Manga Museum
What are the most common remarks people make after reading manga?
They would be either of "It was interesting" or "it's not interesting".
Then what makes manga interesting and fun?
During his long career, Tezuka authored various genres of manga works, including sci-fi, adventure, historical, girls and more. The readers feel as if they become the hero or heroin through reading the works, connected emotionally, excited or saddened at the end of the story. Such experience, indeed, have readers think manga interesting.
That is to say readers think manga interesting and fun thanks to the stories.
On the other hand, there is a genre called "gag manga". Why do people think gag manga interesting?
"Osomatsu kun", "Moretsu Ataro" and "Tensai Bakabon", the representative works by Fujio Akatsuka, known as the pioneer of Japanese gag manga, are depicting ordinary people with ordinary jobs, living in ordinary downtown. What are not ordinary are very unique characters appearing in those works. Once their uniqueness goes out of control, ordinary life becomes unordinary, bringing readers to the world filled with absurdity, which entertains readers though there is no sense in the stories. And people simply think such gag manga interesting and funny.
This exhibition aims to examine the diversity of amusingness in manga through both Tezuka and Akaduka's works, with the original manuscripts as well as 3D displays displayed.