(1995/03/01)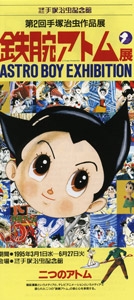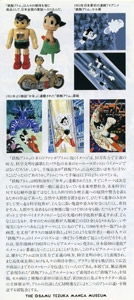 Period: March 1, 1995 – June 27, 1995
Venue: Tezuka Osamu Manga Museum
What is the image of Astro Boy most people have? Probably people imagine a 100,000 horsepower robotic champion of justice or a super robotic hero enjoying advanced science technologies in future.
Tezuka Osamu, however, mentioned about Astro Boy as follows.
"The theme of Astro Boy was already decided when the serialization on Shonen started in 1951. Astro Boy was the work to question or warn the scientific rationalism, not to bring expectation or enlightenment for an ideal society with advanced science technology. If we just pursue the advancement of science technology leaving humanity and wild life behind, it may cause a rift in the society, generate discriminations, and hurt life including human beings miserably. That's what I tried to depict in the work. If the advanced science technology such as robotic engineering and bio technology become beyond our control, what will happen? The technology originally for happiness may become or is becoming a trigger for annihilation. That's the theme of Astro Boy." (Save the Glass Earth, 1980, Kobunsha)
Now why the gap between the typical image of Astro Boy among people and Tezuka's intention was generated?
That attributes to the appearance of Astro Boy TV animation series aired in 1963.
In this animation series, Astro Boy was depicted as a hero robot with 100,000 horsepower, champion of justice and the child of scientific civilization. Furthermore, the hero broke into the realm of advertisement and CM as a symbolic figure at the height of Japan's economic boom.
This exhibition reviews the two Astro Boy, one in the original manga work and another in TV animation series thorough the exhibits including original manga manuscripts, cell pictures, character goods/merchandises (about 200 items). and TV CM with Astro Boy.