(1994/04/25)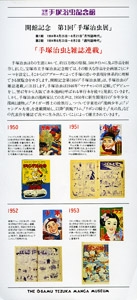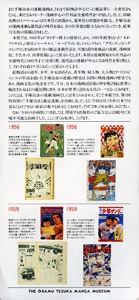 The 1st period: April 25, 1994 – June 21, 1994 "Serialization in Monthly Magazines"
The 2nd period: June 23, 1994 – August 2, 1994 "Serialization in Weekly Magazines"
Venue: Tezuka Osamu Manga Museum

Tezuka Osamu authored approximately 500 titles, 150,000 sheets of manuscripts, during his career.
The aim of TOMM is to hold exhibitions which lead visitors to understand Tezuka's thoughts and expressions systematically by categorizing his extensive works.

Now as the 1st exhibition, TOMM features his works serialized in magazines.

In 1946, Tezuka made his debut as a manga artist with his work titled "Diary of Ma-chan". Since 1947, the following year of his debut, he had published comic books called "Akahon" in Osaka one after another. In 1950, he started serialization of "Dr. Tiger's Funny Trip" on Shonen Shojo Manga to Yomimono, a magazine published from Shinseikaku. Subsequently he serialized his major works including Jungle Emperor, Astro Boy, Princess Knight and Phoenix. It was not until then he established his place in the realm of manga.